Introduction
If you're looking to join the digital age and stay ahead of the competition, then you have to consider investing in a software company. They are the powerhouses behind the burgeoning technology industry, creating innovative software solutions that can help your business stay ahead and solve complex problems.
But what exactly is a software company and what do they do? Well, they are companies whose primary products are various forms of software, software technology, distribution, and software product development. A good software company can provide everything from web development to mobile applications on both Android and iOS platforms to enhance your customer experience.
In this article, we'll go over what a software company does and explore how one can help you reach your business goals. So let's get started!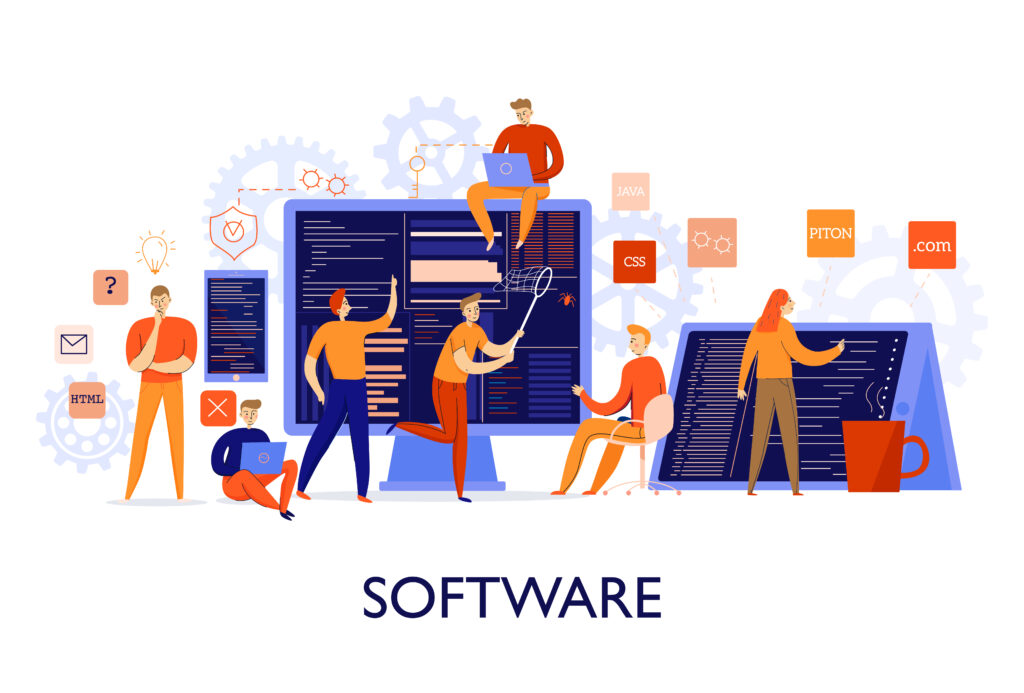 The Different Types of Software Companies
Have you ever wondered what different types of software companies are out there? From startups to multinationals, there are a wide variety of software companies that create and provide software for their customers. Here's a look at the main types of software companies and how they can help you:
Software Product Development Companies – These companies develop and offer custom-designed software products for businesses. They specialize in creating unique solutions for specific clients and markets.
Software Technology Companies – These companies focus on different types of technology, such as mobile, cloud, or analytics. They focus on developing technology that is used to offer better business solutions or improve customer experiences.
Software Distribution Companies – These companies provide the platform for exchanging software products and services between customers and vendors. They distribute, market, and sell software products to end users.
No matter what type of company you're looking for, it's important to do your research and make sure you find the right fit for your needs!
Understanding Software Company Business Models
When it comes to software companies, there are many different business models. That's why it's important to understand the different types of companies so you can pick the one that best fits your needs.
The most common software company business models fall into three categories:
Product companies, which focus on developing and marketing specific products;
Service companies, which offer specialized services to customers; and
Platform companies, which provide the underlying technology platform for customers to build applications and services on top of.
Each type of model has its own advantages and disadvantages. Product companies are often seen as better suited for innovation since they focus more on developing new products rather than providing customer support or customizing existing products. Service companies are better suited to addressing customer needs quickly, while platform companies can help customers create their own customized solutions without needing to develop software from scratch.
By understanding each of these business models, you can make an informed decision about which type best suits your needs.
Benefits of Working at a Software Company
Do you know what kinds of benefits you can get from working at a software company? Here are just a few:
Ability to Work Remotely
Flexible work hours and the ability to work remotely are common benefits of working at a software company. Working remotely allows employees to be productive and efficient in their workspace since they do not have to worry about commuting or finding childcare options when they need a break. As long as there is proper technology in place, most software companies will be able to provide these flexible working arrangements.
Open-minded Culture
Software companies are often very open-minded places to work, encouraging employees to explore new ideas and push boundaries in order to create the best possible products. This open-minded culture encourages collaboration between departments and is incredibly beneficial for employees who enjoy problem-solving!
Access To Cutting-Edge Technology
Another great benefit of working for a software company is having access to the latest technology. Companies must stay on the cutting edge of technology in order to stay competitive and be successful, so having access to this cutting-edge technology gives employees an advantage over their peers. Additionally, being exposed to the latest technologies can help employees increase their knowledge base and make them even more attractive candidates when searching for new job opportunities.
Core Components of a Successful Software Company
Building a successful software company isn't easy, but it doesn't have to be impossible either. There are core components that every software company needs to make it a success.
A great team
Your team is the backbone of your software business, so it's essential to find the right people for the job. Look for people with industry experience, passion for the product or service, and an understanding of your mission and goals.
A clear vision
Having a clear vision is key. It will help you create a roadmap to success and give you something measurable to measure progress against. It's also important to ensure the vision is communicated to everyone on your team—so they can stay focused on what matters most.
Quality products/services
Your products/services should be designed with the user in mind and offer real value. Make sure they are of good quality and can stand up against competitors in terms of features, functionality, and overall usability. Investing in testing resources will help ensure that you're delivering a quality product or service every time.
A solid business plan
You need a plan that outlines how your software business will be profitable over time. This includes market research, financial projections, marketing strategies, and an understanding of the competitive landscape. Without this plan in place, you risk wasting time and money on initiatives that won't provide any return on investment (ROI).
Strategies for Succeeding in a Software Company Environment
When you're working for a software company, there's always a lot to think about. Different strategies and approaches can be helpful in ensuring success. Here are some tips that can help you succeed in such an environment:
Learn the lingo
Familiarize yourself with the language and acronyms used in the industry.
Take initiative
It's important to be proactive and take initiative when working in a software company environment. This means recognizing opportunities where your skillset may be of use and actively seeking ways to contribute or offer your expertise. Showing that you're willing to put in extra effort shows your commitment and will make sure that your employer knows they can count on you.
Challenges Facing Software Companies Today
Software companies face plenty of challenges these days, from changing customer preferences to fierce competition. It's important for companies to understand the obstacles they face and take steps to address them.
Staying Ahead of Customer Needs
Consumers have increasingly high expectations for software products, so it's important for companies to stay ahead of the curve and provide innovative solutions that meet customer needs. Companies must continuously adjust their products to meet the ever-changing demands of their customers and be agile enough to keep up with new trends.
Keeping Up With Technology
Technology advances quickly and software companies must be able to adapt their products quickly in order to remain competitive. Software developers need to stay on top of the latest technologies and be able to make decisions about which ones will be most beneficial for their business. They also need to know when it's time to move on from existing technologies and explore new ones.
Making a Profit
The cost of developing software can be expensive, which means companies have limited budgets to work with. Companies must carefully plan their development strategies in order to make sure they are getting the most out of their investment while still making a profit. They may need to consider new ways of monetizing their products in order to remain profitable.
Conclusion
While there is no one-size-fits-all solution for creating the perfect software company, there are some key ingredients that should always be included in the recipe. From creating the right kind of product and finding the right partners to building the right team and creating a culture that cultivates innovation, a successful software company requires a mix of dedication and foresight.
When it comes down to it, launching a software company is as much an art as it is a science. As with any venture, there are no guarantees. But by taking the time to plan for the future, carefully select the right team, create the right products, and cultivate the right culture, you'll be well on your way to creating a software company that stands out from the competition and builds a loyal customer base.