Introduction
Salaries for software engineers can vary greatly depending on a number of factors. But what's the average salary for this field in Pakistan?
According to PayScale, the average software engineer salary in Pakistan is Rs 879333. This amount can change depending on a number of factors, such as experience, skills, and location.
If you're thinking of pursuing a career in software engineering, it's important to research the average salary in your area to get an idea of what to expect. And keep in mind that salaries can vary greatly based on the company you work for and the city you live in.
Want to learn more about software engineer salaries? Visit PayScale today.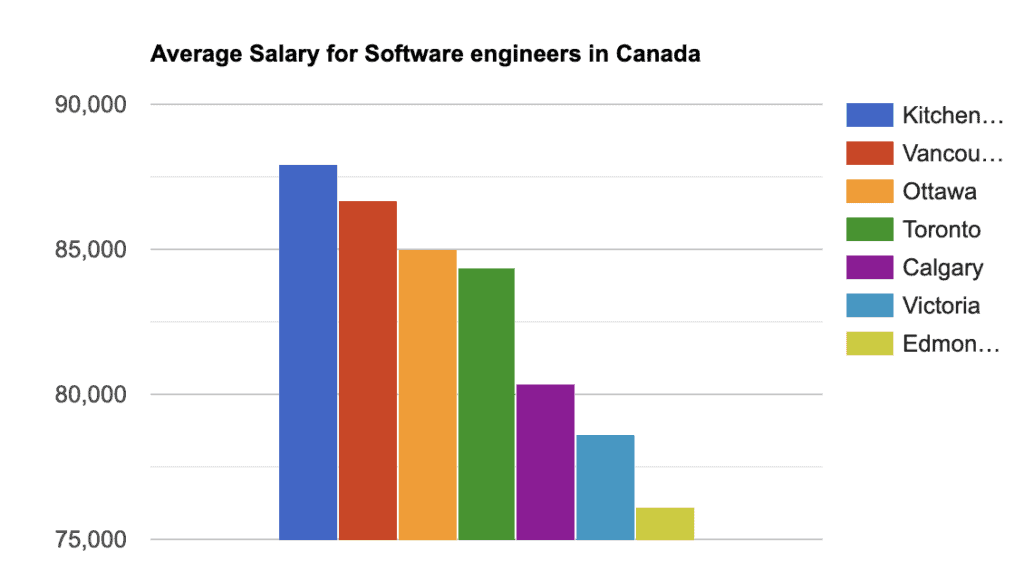 An Overview of Software Engineer Salaries in Pakistan
According to PayScale, the average salary for a software engineer in Pakistan is Rs 879,333. However, this number can range greatly depending on factors such as experience, skill level, and city of employment.
For example, a software engineer working in Karachi is likely to earn a higher salary than one working in a smaller city. Additionally, experience and skill are also important factors in determining salary. A software engineer with ten years of experience is likely to earn more than one with only five years of experience.
So what do these numbers mean for you? Well, if you're thinking of becoming a software engineer, know that you can expect to make a good living doing what you love. But remember that the more skills and experience you have, the more you'll be able to earn.
How Location Affects a Software Engineer's Pay in Pakistan
Location is a major factor that affects a software engineer's salary in Pakistan. According to PayScale, software engineers in Karachi earn an average salary of Rs 981,333, while those in Islamabad earn Rs 879,333.
There are many reasons for this discrepancy. For one, the cost of living is higher in Karachi than it is in Islamabad. In addition, the demand for software engineers is higher in Karachi, as many large companies and startups are headquartered there. Finally, the number of software engineering graduates from Pakistani universities is higher in Karachi than it is in Islamabad.
The Impact of Experience on Salaries for Software Engineers in Pakistan
The more experience you have, the higher your salary is likely to be. As a Software Engineer in Pakistan, you can expect to earn an average of Rs 879333 per year. But this figure varies depending on your level of experience and the city you work in.
For example, in Karachi, the average salary for a Software Engineer with 5-10 years' experience is Rs 1300000. While in Lahore, someone with the same level of experience can expect to earn an average of Rs 1000000. And if you're just starting out in your career, you can expect to earn around Rs 620000 in most cities.
So what's the best way to maximize your earning potential as a Software Engineer? It's simple: gather as much experience as you can. The more you know, the more valuable you are to your employer.
What Skills Are Important for a Software Engineer?
It goes without saying that software engineers must have technical skills. After all, coding is the crux of their job. They must be able to write new software programs and modify existing ones, understand databases such as SQL and NoSQL, and design user interfaces for software applications.
They should also be capable of troubleshooting problems, such as those related to programming code or system failures. In order to do so, they must have excellent problem-solving abilities as well as analytical and critical thinking skills.
Good communication skills are also important for a software engineer since they often work in teams and need to explain their ideas to others in the group. Lastly, software engineers should be familiar with various tools related to their profession such as HTML, CSS, JavaScript, C# and more.
Benefits and Perks for Software Engineers in Pakistan
The benefits of being a software engineer in Pakistan go beyond the salary. Many employers offer developers attractive and attractive benefits packages, such as health insurance, paid holidays and vacations, and bonuses.
One of the biggest perks is the ability to work from home. Given the remote nature of much software development, companies often favor telecommuters — that is, software engineers who can work from home or remotely. The cost savings for employers makes this an attractive option for both parties.
Software engineers in Pakistan also benefit from job security and job growth. With a growing demand for skilled coders in Pakistan, software engineers in this field have no shortage of jobs available — and many companies are willing to pay top dollar for the talent they need.
Salary Negotiation Tips for Software Engineers in Pakistan
Are you a software engineer looking to negotiate the best salary possible in Pakistan? Here are a few tips to help you make sure you get the compensation you deserve.
First, research salaries for software engineers of your experience level in different cities. This will give you an idea of the going rate for software engineers in the area, so you can better prepare for negotiations. Make sure to also take into account any bonuses or benefits offered as part of your compensation package.
Next, when you sit down with a potential employer to negotiate your salary, be confident and know the value of your work. Show how your skills and experience are beneficial to their company, and how they should pay accordingly. Present yourself as someone who is worth more than the average Joe when it comes to salary negotiations.
In conclusion, with some research and preparation on your part, you should be able to get the salary that reflects your skills as a software engineer in Pakistan.
Conclusion
In conclusion, the average salary for a software engineer in Pakistan is Rs 879333. However, this amount can vary depending on the experience and skills of the individual.